For the general public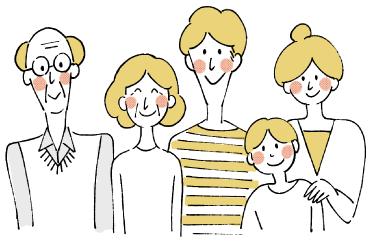 Have you ever heard of the term "regenerative medical products"?
Products used in regenerative medicine are made by processing cells and tissues, which are then used for medical treatment in the same way as pharmaceuticals and medical devices.
The main raw material required for manufacturing regenerative medical products is somatic stem cells.
Somatic stem cells are cells in the human body that can differentiate into various cells and tissue types. Somatic stem cells have the ability to repair body functions.
Somatic stem cells are extracted from human tissue, but they are currently difficult to obtain in Japan.
Therefore, our hospital plans to procure surplus cells and tissues obtained during surgery, and then establish a system to provide these samples to companies that manufacture regenerative medical products. Emphasis will be placed on ethical and legal issues.
Such efforts will revitalize research and development of regenerative medical products in Japan, and will provide hope for people suffering from diseases for which there were no effective treatments until now.
We ask for your cooperation in the development of regenerative medicine.
Information on cells to be procured
Keio University Hospital asks you to provide tissues and cells (fat, bone marrow, etc.) that are normally discarded during surgery. Tissues and cells removed during standard surgical procedures in plastic surgery and orthopedics will be procured, so there will be no extra excisions performed for the donation.

In addition, medical information such as procurement date, age, gender, race, health condition, infectious disease, and medical history will also be required. Depending on the above information, tissues and cells may not be distributed, even if after procurement.

Personal information provided to pharmaceutical companies we will anonymized so that identifying individuals will not be possible.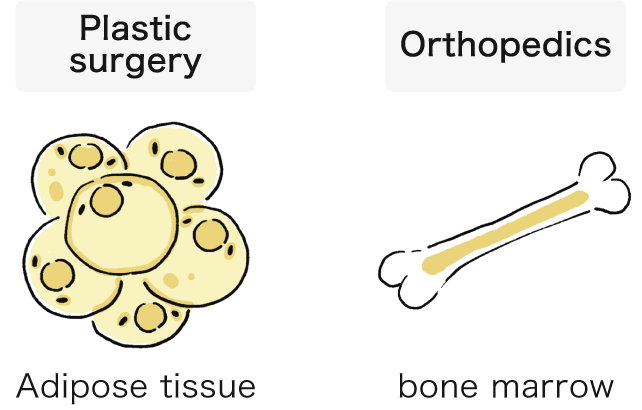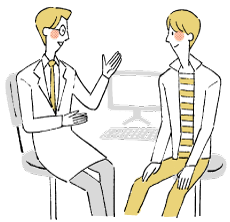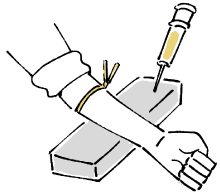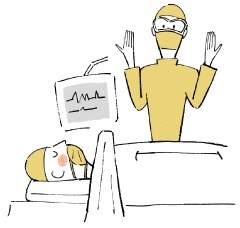 Participation flow
Further details on the project are available for those who are interested in providing tissue or cells.

Donors of tissue will be asked to sign a consent form following a detailed explanation.

Additional test will be performed for any missing items as an infectious disease prior to donation of cells.

You will have surgery as scheduled. Tissues and cells will be procured during surgery.

The collected tissues/ cells and anonymized personal information will be examined in advance by the "Keio University Hospital Human Cell Procurement Ethics Committee" and provided to pharmaceutical companies, etc. following approval by the hospital director.

An additional blood test will be performed on a later date due to a window period (latency) cause due to the late production of antibodies in infectious disease.
Q&A

How will the provided cells be used in regenerative medicine? Please tell us about the type of disease to be treated, the number of patients, the effect, and the safety.

The collected cells are processed by using enzymes to dissociate tissue into individual cells, or by culturing multiple cells and differentiating them to suit the disease that requires treatment. There are various illnesses that can be treated. For example, diseases such as osteoarthritis of the knee, heart failure, spinal cord injury, etc., that prevent a part of the body from performing its full function can be treated, as well as cancer. The number of patients depends on the disease. Regarding the efficacy and safety, products approved as regenerative medicine products have been confirmed to have a certain degree of efficacy and safety. This effect and safety (side effects, etc.) may vary from person to person.

Please tell me the specific method of procurement.

Tissues and cells that are usually discarded during surgery are collected aseptically if possible, depending on the excision and suction location.

How do you guarantee the safety of the person who provide cells?

In this project, we will only use tissues and cells that are discarded during standard medical practice (surgery), so there is no additional safety issues for donating cells.

Is the offer free of charge? Is there an examination fee?

Yes, it is free of charge. You will not be responsible for any tests or transportation costs that are required in addition to the usual medical examinations required for the donation.

Will personally identifiable information such as names be provided to pharmaceutical companies, etc.?

Information transmitted to pharmaceutical companies, etc. is processed so that it cannot be identified by an individual, so information that identifies the individual (name, etc.) is not included.
In addition, the information about the cells you provide will be managed by the system in the hospital.

What kind of companies will recieve cells?

First, we will provide cells to companies that manufacture regenerative medicine products. In the future, we plan to include companies that manufacture cells for clinical research, and companies that handle cells for basic research as well.